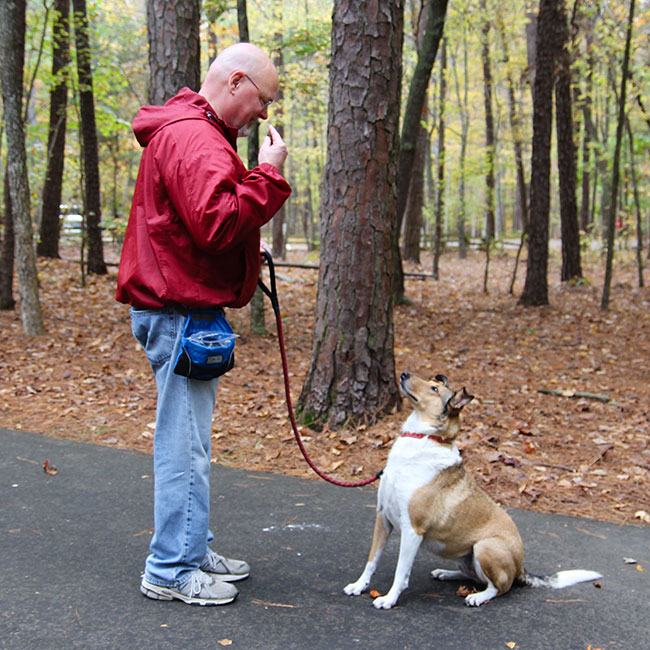 Did you just adopt a new family dog or have you been putting off training and now you need some help teaching manners around the house? Our Foundations class is more than your typical commands class. We address common canine problems – potty training, crate training, nipping, biting, jumping on people, pulling on the leash, stealing food, and destructive chewing, as well as obedience cues such as sit, down, wait/stay, focus, come when called, drop it, leave it, and more! We also cover other areas of dog ownership, such as socialization, grooming, nutrition, and toy shopping (want to find a toy your dog can't destroy?). You will learn how to get reliable behavior and a calm dog, whether at home or out in public.
This is our most popular class, and it's praised by experienced and first-time owners alike. We give you new ways to communicate with your dog and help the dog become a problem solver and, independently, make better choices. This helps both dog and owner work together as a team, all while building a long-lasting relationship. We can even teach "old dogs new tricks." If you are ready to build a strong foundation with your dog, this is the class for you!
We're sorry, but this class does not cover behavior challenges such as severe on-leash reactivity (barking, growling, and/or lunging at others while on leash), excessive barking, separation anxiety, confinement distress, extreme fearfulness of people or dogs, or aggression as these cannot be covered in a group class setting. If you are experiencing this behavior, please check out our private training options. This way, we can tailor a training program to tackle your dog's individual needs.